How do you develop a Top Performer? Can you spot the next leader in your organization? How can you recognize their decision-making style, how they'll connect with team members or express themselves effectively? Is there a way to be sure?
It's True: That crystal ball that shows you how to get the greatest ROI on your biggest investment does exist!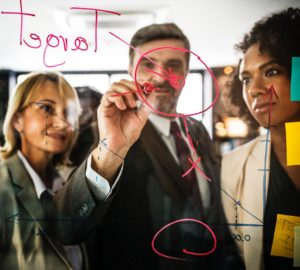 No doubt you've felt like the plate spinner at the circus sometimes when it comes to running your organization. Costs change, markets change, customers change, and one of the costliest changes in your company happens when talented and motivated personnel become disengaged or leave for greener pastures.
Research such as Google's Project Aristotle shows that employees are looking for more than just a title and a paycheck – they are looking for their place within an organization that provides structure, meaning, and the opportunity to make an impact, while feeling connected and engaged in a company's mission.
These may seem like vague intangibles, but they are concrete indicators when it comes to matching person to position.
This is where the crystal ball comes in.
While there are many personality and development assessment tools, measuring EMOTIONAL INTELLIGENCE (EI) is a powerful and highly accurate indicator of human performance and development.
In other words, understanding how emotions work at work.
Emily Golden brings her expertise in corporate HR, executive coaching, and the EQi 2.0 to you – freeing you to focus on the bigger picture of growth and profitability while knowing your best people are in their best positions.
EQi 2.0 supports your leaders in….
Expressing themselves effectively
Connecting at a deeper level
Improving decision making
Managing stress better
And while these sound like "nice things to have," they are vital to a healthy, profitable organization. Leaders with self-awareness and emotional self-control are better able to influence others and cultivate effective relationships. HR departments are freed up from endless loops of poor performance reviews and refereeing petty, time-consuming, and often misinterpreted grievances. Employees become more engaged and invested emotionally, mentally, and professionally.
Coaching your people how to improve core competencies, such as authenticity, insight, and innovation not only impacts your organization's bottom line, it stimulates individual growth, job satisfaction, and improves retention.
If you're ready to learn more, schedule a conversation with Emily Golden now 
Engaged employees means:
Increased Performance and Productivity
Improved Customer Satisfaction
Decreased Attrition Rates
Reduced Training Costs
Which means increased sales and profitability for your organization.
IF YOU'RE READY TO BRING A SCIENTIFICALLY-VALIDATED FRAMEWORK delivered by a leader in talent recruitment and management that enables your organization to attract, select, engage, and retain top performers – the right people in the right position, then talk with Emily Golden now.
Schedule a conversation with Emily Golden Here 
Emily's tailored program of assessment tools and consultation allows you to focus on your organization's needs, vision, and mission while developing your team into future business leaders who'll bring newfound value and positive impact to their work, their teams, and your entire corporate structure.
For more information on EQi 2.0 Click Here