The Link Between EQ and Being Genuine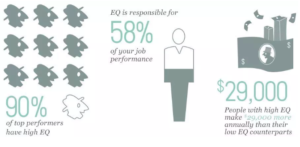 It's hard to believe that April is coming to a close.  Spring is in full-swing and in our home, it's all about baseball, soccer and end of school year planning.  It's a genuinely messy time of year as my husband and I try to keep all the balls in the air as we pass each other likes ships in the night running from activity to activity.  Perhaps you can relate.
As a professed personal development junky, I am constantly reading articles and books, listening to personal and professional development podcasts and videos and talking to others in the coach and leadership development space.  Every now and then I come across a piece of content I feel compelled to share with my clients and community.  This recently published online article in Success Magazine is one of these pieces.
Emotional Intelligence is getting more and more attention in the media these days.  Having high EQ correlates closely with success; the infographic above from this article illustrates the correlation nicely.  But Travis Bradberry, an EQ expert, asserts that high EQ alone is not enough.  One must also be genuine.  He goes on to illustrate "12 Habits of Genuine People".  Enjoy the article and as always, feel free to press "reply" and share any insights, ah-ha moments or comments.