Online Course:


Golden Growth - A Professional's Journey into Personal Development

It IS possible to love your job and feel confident in your abilities and career direction.
Discover a step-by-step framework that will support you to identify — and OWN — your biggest talents and strengths, begin to work smarter (not harder), and find more joy and satisfaction in your work and your life.
You KNOW you're a great leader and have lots of untapped potentials, yet without a clear path to unlock it and feel happier at work, you keep pushing yourself through each day, feeling confused, overwhelmed, dissatisfied, and alone.
Ready to gain the clarity, direction, and confidence you've been craving in your career?
You'll tap into the potential you've always known was there and see some incredibly exciting (and freeing) results with 7 Learning Modules that will give you the personal development you need to become more feel more confidence and contentment in your career, 28 Tools and Exercises to help you explore what they're learning more deeply and apply it to your work and life.
Book:


The New Golden Rule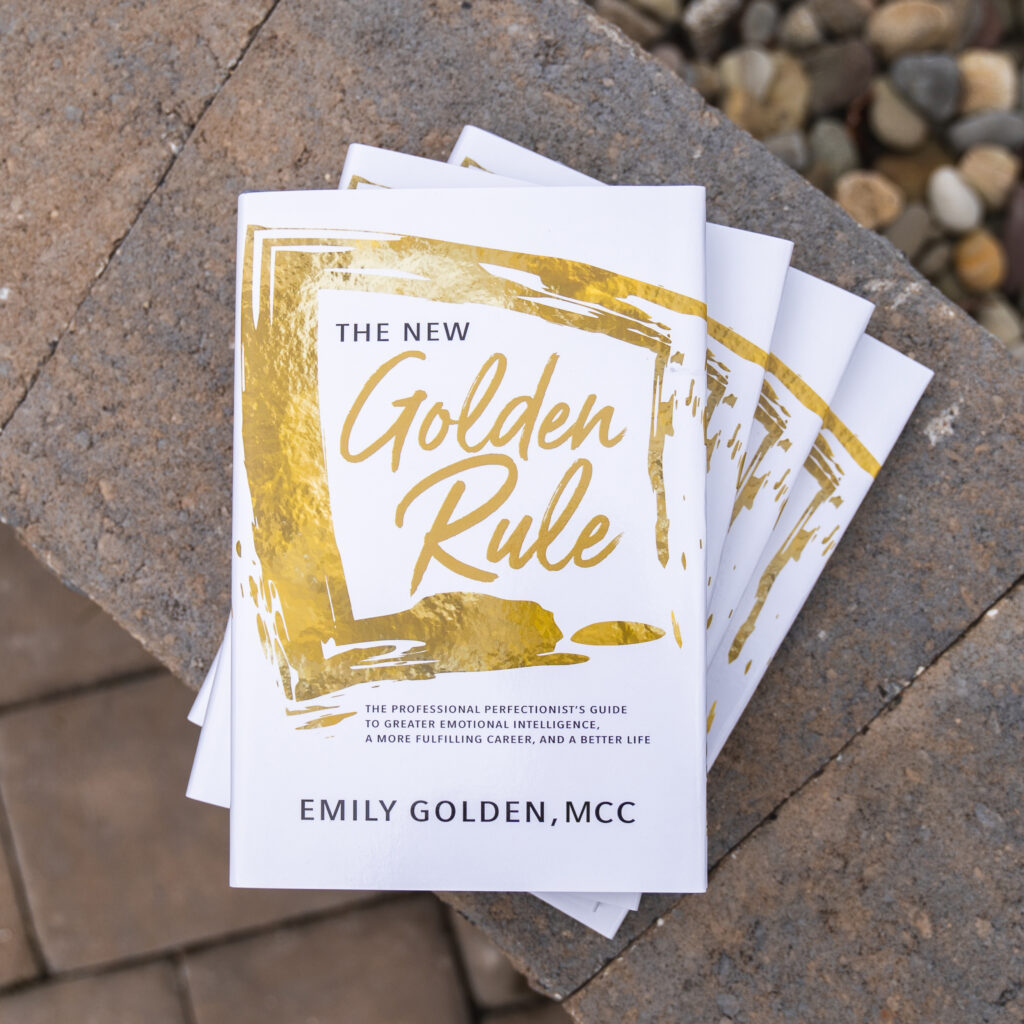 "Treat yourself the way you want others to treat you."
Surely you're familiar with the Golden Rule: "Treat others the way you want to be treated." While this seems like a good mantra to live by, in reality, placing all your focus on others may be exactly what's holding you back. In The New Golden Rule, professional certified coach Emily Golden explains how to close the gap between where you are and where you want to be, simply by putting yourself first.
Emily's ontological approach allows individuals to clarify their goals, shift underlying beliefs and habits, take calculated risks, execute their brilliance, and make quantum leaps rather than incremental improvements. Her intuitive nature quickly identifies the roots of roadblocks, enabling you to shift limiting viewpoints into transformative action, and spinning wheels into profound and lasting change. With Emily's gentle guidance, you will learn how to embrace optimism, reduce your anxiety, exude empathy, and achieve your biggest goals.
With her honesty, commitment, and relentless drive, Emily builds future leaders who bring indispensable value, positive impact, and authentic connection to their professional and personal lives, resulting in a better tomorrow, today.